2022 S-Class

INNOVATION
With every year, an S-Class represents not just the pinnacle of the automobile but the forefront. It's thoughtful of its passengers. Keenly in tune with its driver. Highly protective of those within or even near its elegant presence. Everything that matters most to you, matters more than ever to the S-Class.
More evolved. Keeps evolving
The Mercedes-Benz User Experience (MBUX) is intuitive and intelligent, and grows even smarter over time. An advanced multiscreen, multitouch digital cockpit can recognize your fingerprint and respond to your natural voice.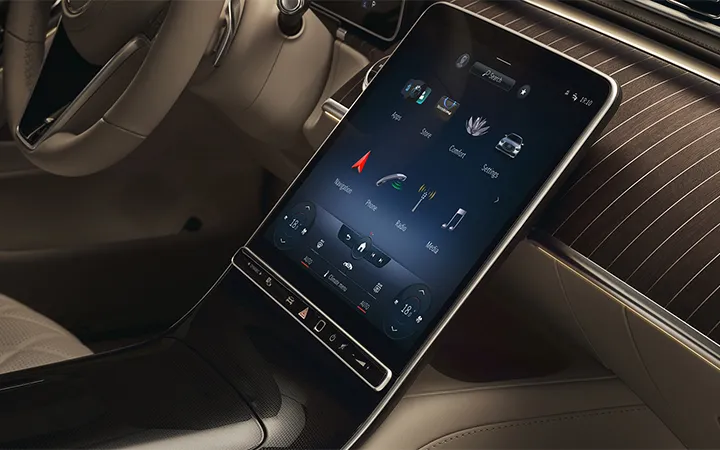 Recognizes you. Remembers your likes
A 12.8-inch Organic LED (OLED) touchscreen is the centerpiece of up to five screens that can share content or entertain individually. You can personalize 800 settings, in the car or from your phone, in up to seven user profiles. Disclaimer[3] Disclaimer[4]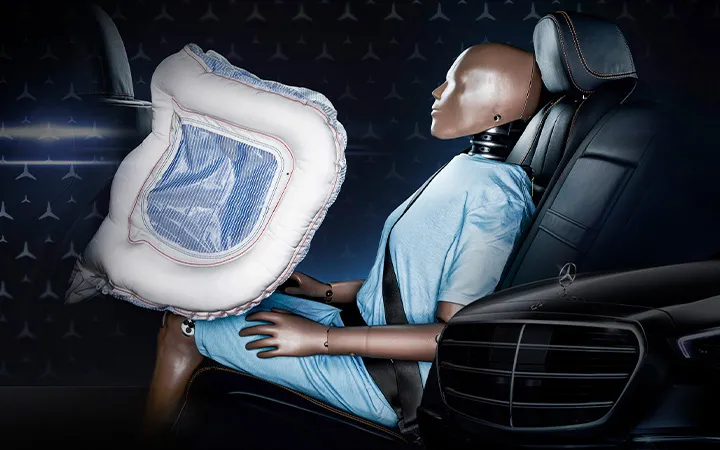 Front air bags. Even in back
A perennial pioneer in occupant protection, the S-Class looks out for its own and even those around it with its advancements in safety. Among them, the benefits of front air bags can be extended to the rear cabin. Disclaimer[5]
Easier in here. Safer out there
An advanced suite of driver assists is standard. Systems and sensors network, look ahead and into adjacent lanes, and tap into GPS and real-time data to sharpen anticipation, quicken reaction, and adapt more smoothly. Disclaimer[6]

DESIGN
Signature details, majestic proportions and a windswept sportiness unite in a sedan that's undeniably modern yet unmistakably an S-Class. The gleaming Star stands proud above the iconic grille, a beacon of inspiration for all cars to follow.
Thousands of stitches, seamless result
Finely tailored leathers and exotic wood and metal trim envelop fresh technology in an unfading dedication to craftsmanship and detail. From switches to speakers, stitchwork to sculpting, every element creates a harmony of form and function.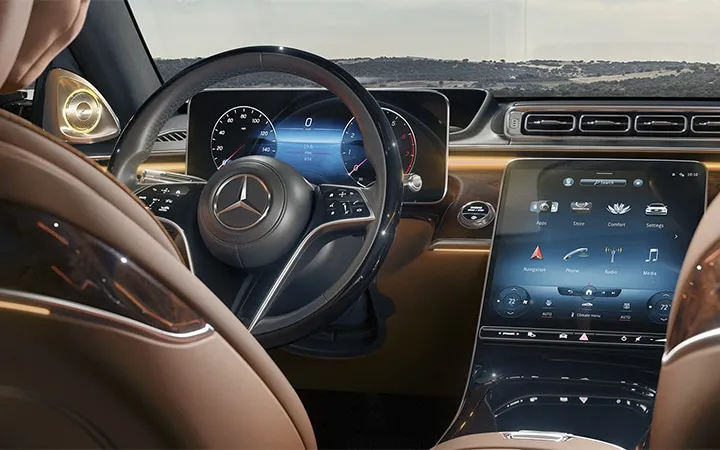 In the background, in the moment
You can select, pair and sequence the 64-color ambient lighting to match your mood of the moment, or to help you set an entirely new one. Disclaimer[7]
Fill the air, feel the sound
Standard Burmester® 3D Surround Sound offers immersive, personalized audio. A High-End 4D option integrates resonators into the seats for music you can feel. Ear-level speakers deliver driving information to the driver rather than the whole cabin. Disclaimer[8]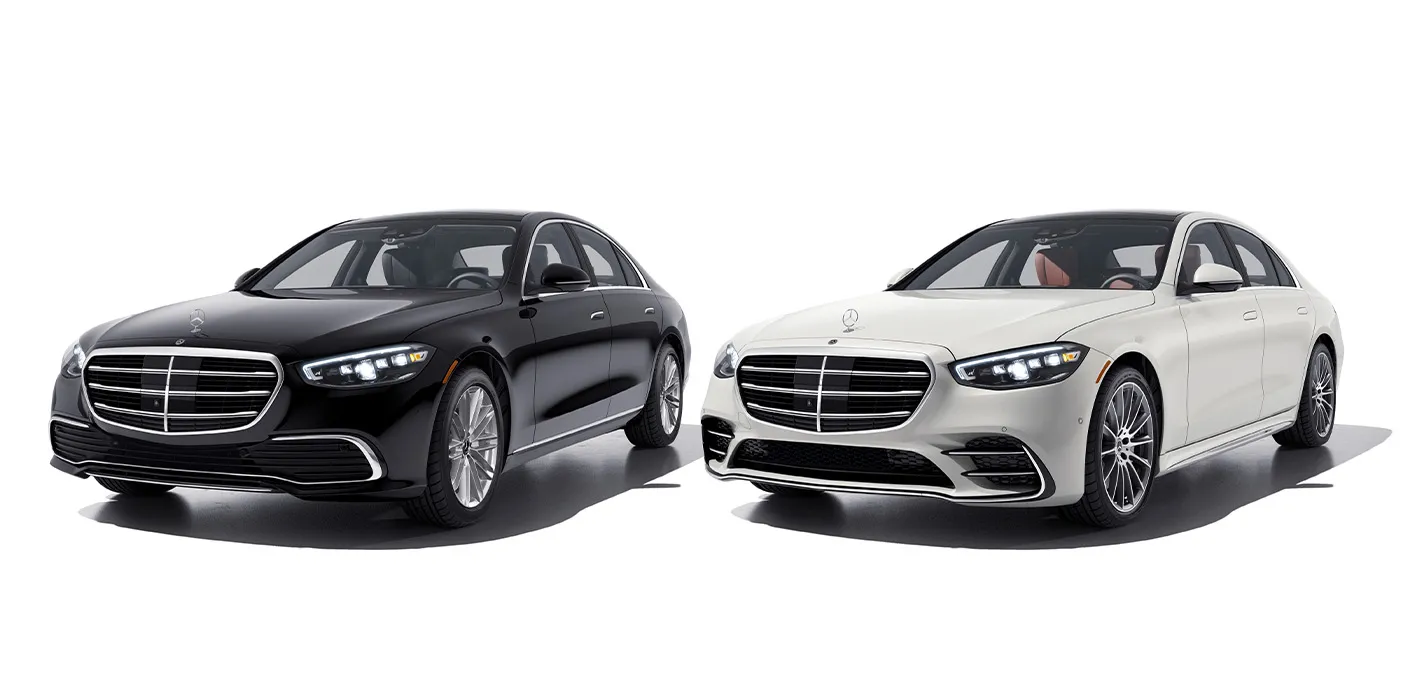 Distinctive lines, distinguished bloodlines
Standard Luxury Line styling includes crisp chrome accents and a choice of three 19-inch or 20-inch wheel options. The elegantly aggressive AMG® Line and black-accented Night Package offer AMG® wheel options up to 21 inches.

PERFORMANCE
Forward-thinking performance pairs turbo and electric boost for more than 400 hp in every model. Torrential torque is precisely metered to all four air-suspended wheels for all-year, all-road confidence.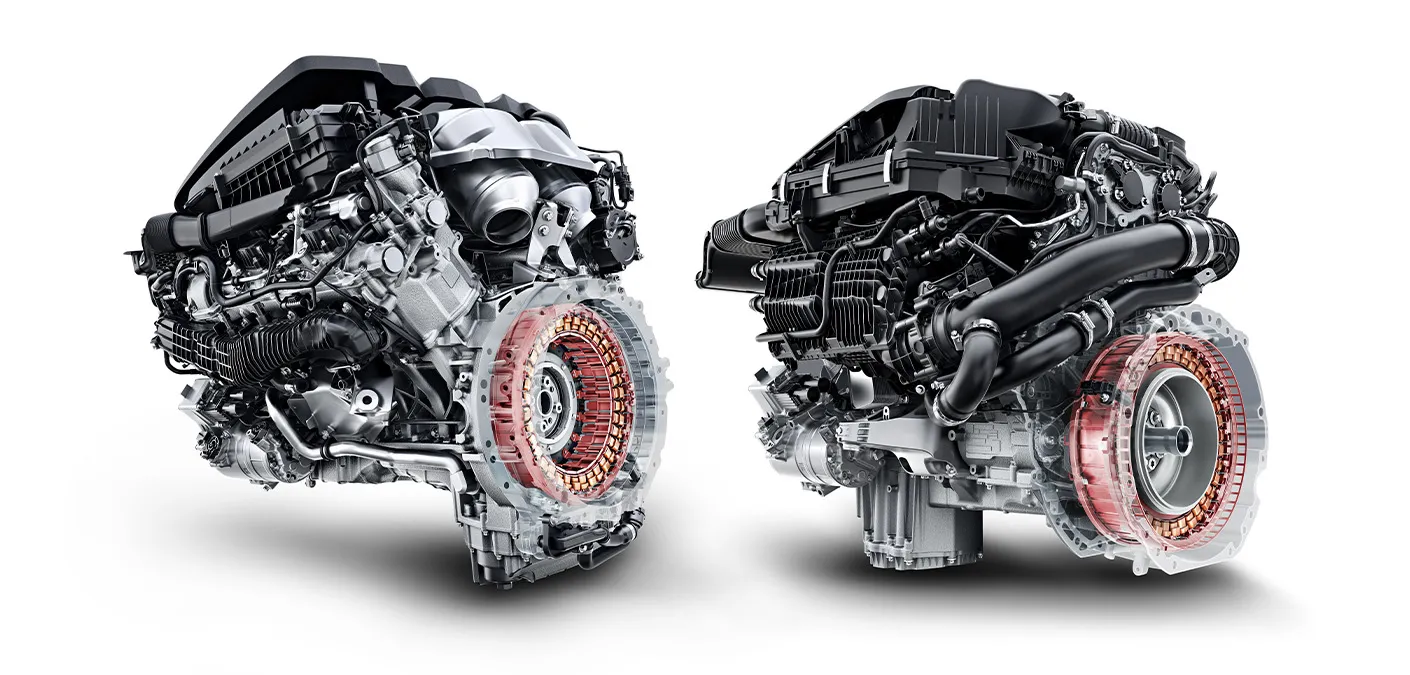 Turbo torque, electric boost
An innovative hybrid Integrated Starter Generator can add torque electrically and make ECO Start/Stop even smoother. The S 500's 429-hp inline-6 turbo is further boosted by an electric auxiliary compressor. Twin turbos help the S 580 V8 output 496 hp.
Tighter turns, smoother maneuvers
Rear-axle steering can help ease parking and city maneuvers. At speed, the rear wheels can turn with the fronts for swifter lane changes, or adapt based on driving dynamics for more stable handling. A 10-degree system is part of the Executive Line, while the AMG® Line offers a 4.5-degree option.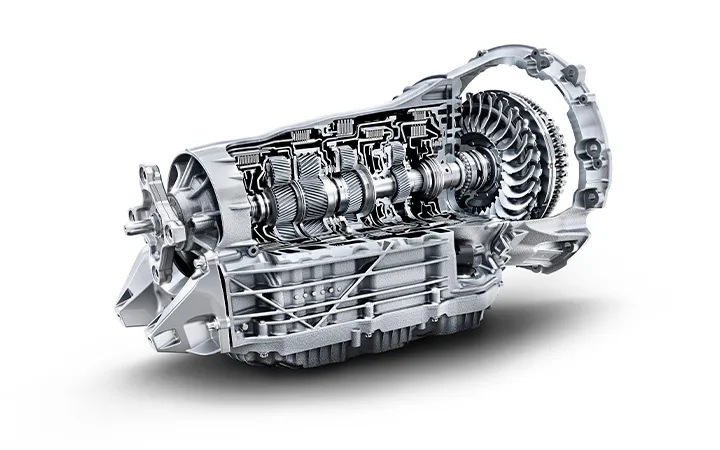 Moving modes, for changing moods
Effortless or engaging, as you wish: DYNAMIC SELECT drive modes let you dial in performance with a few taps. The 9-speed transmission, suspension and more sharpen in Sport mode, ease up in ECO, or you can set up a mode of your own.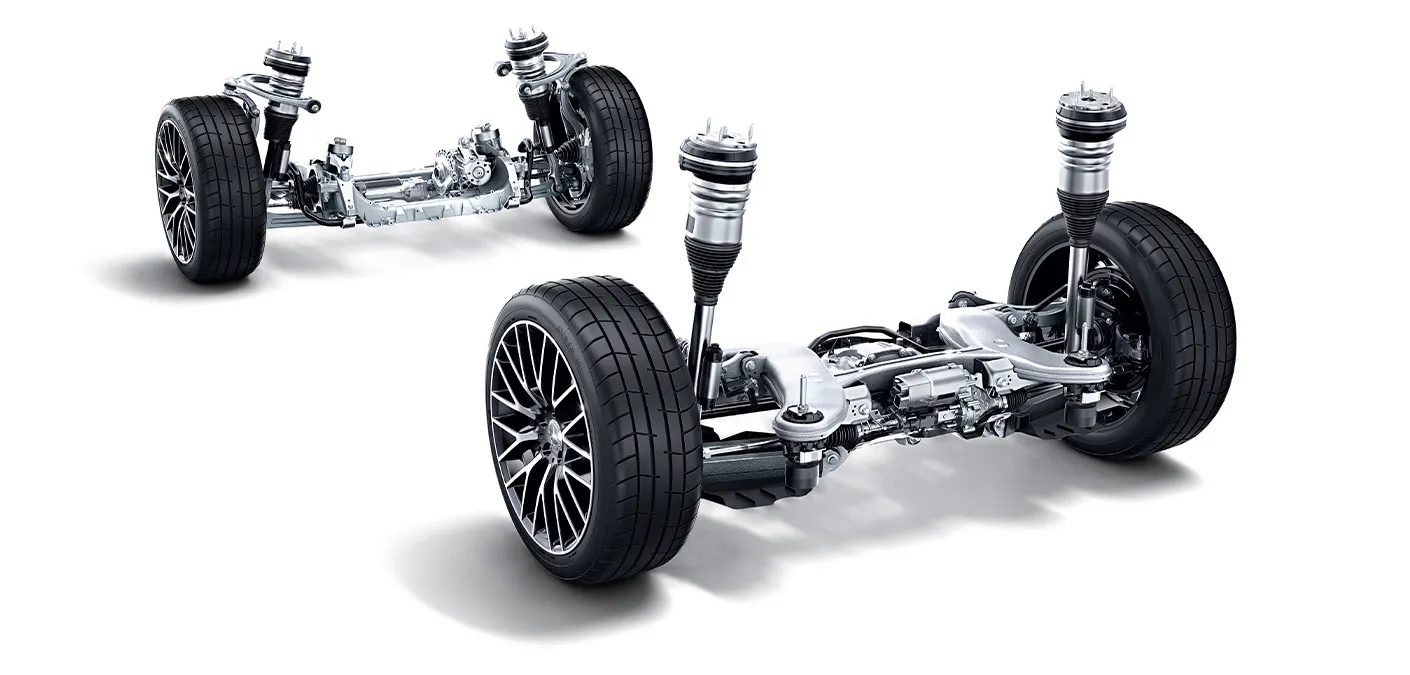 Level-headed, surefooted
Standard 4MATIC® all-wheel drive sends torque to the tires that can best turn traction into action, from winter's wrath to tight turns. AIRMATIC® air suspension can adapt at each wheel to optimize agility and poise. Available new E-ACTIVE BODY CONTROL can watch the road ahead and respond in milliseconds. Disclaimer[9] Disclaimer[10]